Another year, another set of hearts broken just-in-time to be mended or further wrecked by Valentine's Day. The Grammys have come and gone while giving us a look back at the highlights of last years musical triumphs and a look forward to what will hopefully become familiar faces.
Last night's 59th annual Grammys were stocked with surprises, hits and lots and lots of misses. Coming in close second to the torrent of songs coming from music's biggest night may have been the bane of the general population expecting a break from the politically charged climate of award shows and the world at large. If you were one of the people hoping for a break from politics you came to the wrong place, but the Grammys' longtime producer Ken Ehrlich wanted it that way.
When talking to The Wrap about producing this year's show he stated that "Honestly, I hope it will be a political show, I'd much rather have an artist come up and express their feeling than thank their manager, agent, publicist and lawyer." That statement should come as no surprise to no one considering Ehrlich has produced the Grammys since the 80s and in recent years has tackled issues like marriage equality with his mass wedding during Macklemore & Ryan Lewis' "Same Love" performance or more recently Kendrick Lamar's police brutality focused "To Pimp a Butterfly" medley. But before we get there, let's start at the beginning.
Adele just came to say Hello.
Giving Adele the much-needed redemption she needed from last year's All I Ask performance (remember when all we could hear was some sort of horrible clanging as the piano played that no one could figure out if it was remnants from Justin Bieber's performance or a fallen mic, we'll never know). Though the performance started off a little off, it was a brilliant masterclass in vocal control.
Performance Rating A-
TL;DR – Adele welcomes you to the Grammy's belting 2016s most memeable song.
---
James Corden did THE MOST for about 4 Hours
Opening with a stage gag that put him on a "faulty" lift which then left him to climb onto the stairs, then fall through them, then climb through them again, then fall down all of the stairs… then stop the entire performance (a theme of the night) and spit a hot…64? Regardless, Corden brought tensions down between heavily politicized or (religious) performances.
TL;DR – James Corden likes to rap with one shoe on.
---
J.Lo doesn't like Trump, the Grammy's Don't Like Chance the Rapper?
Speaking bluntly before presenting the Best New Artist award, Jennifer Lopez said "At this particular moment in history, our voices are needed more than ever… So tonight, we celebrate our most universal language– music." After the nominees were announced Jenny who used to be from "the block" forgot to open the card, but once she did there was a rapper other than Drake that she made very happy, and his name was Chance.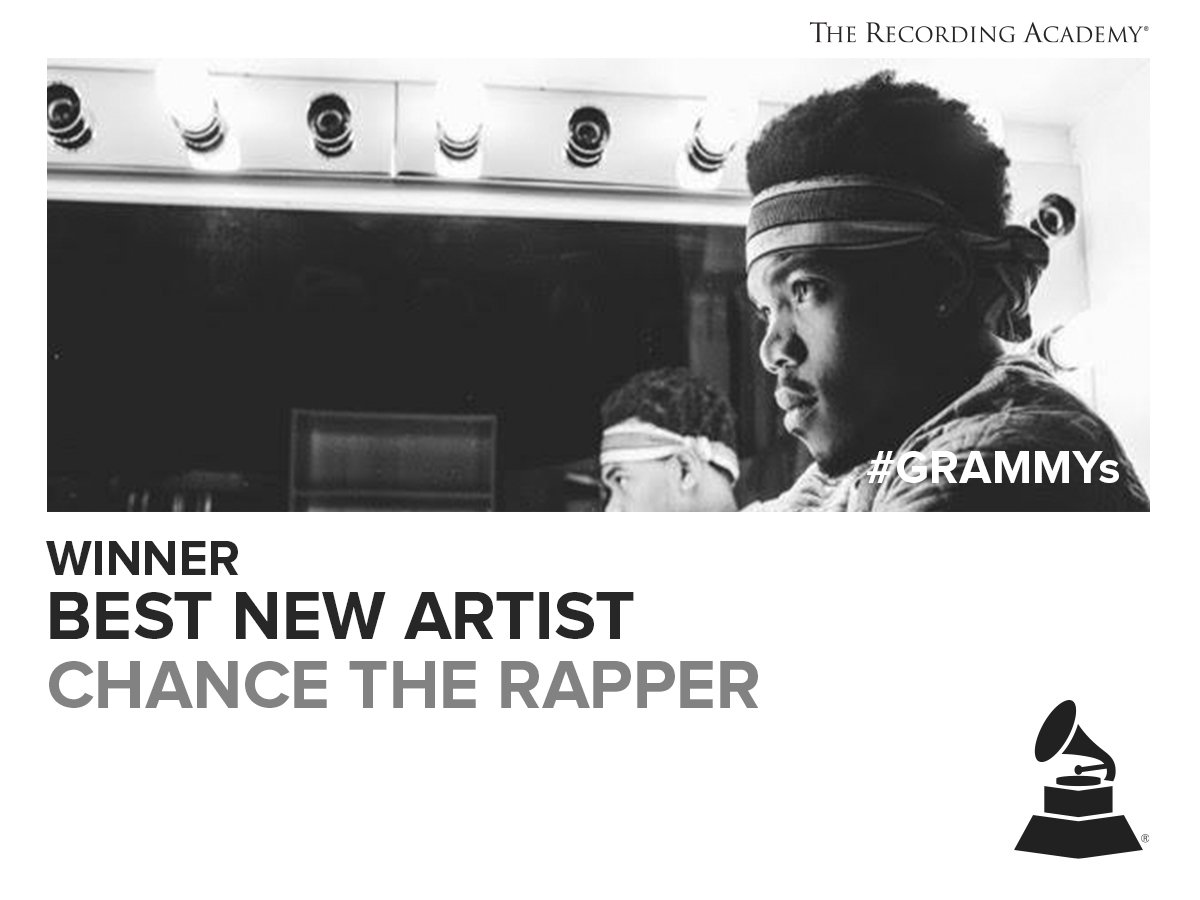 Chance "claimed this victory in the name of the Lord," then thanked God a lot more, then thanked his friends and family for supporting him. Though the Grammys tried to play him off, Chance "Y'all can play the music, I'mma talk."
---
A Starboy is Born
Fresh off the runaway success of his collaborations with Daft Punk, the Weeknd doubled down on his faith of his robotic french collaborators with the very Michael Jackson-esque I Feel It Coming. As you will later find out, vocal quality was definitely the downfall of this year's Grammy's but the Weeknd was not only pitch-perfect but Daft Punk's live vocoded harmonies weren't even a hair out of place.
Performance Rating: A+
TL;DR: The Weeknd and Daft Punk killed it, and they even gave a shout out to Star Boy.
---
John Travolta is going blind.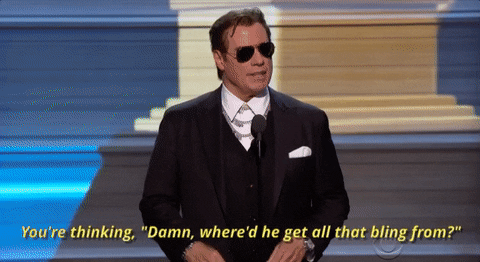 Going highly off script, John Travolta once again messes up his "Grammy moment" pulling out cue cards that he himself clearly never looked at while he mysteriously drops knowledge about a BeeGees tribute that is sure to…do something. Introducing Carrie Underwood and Keith Urban which were the first artists of the night to debut a new song on the Grammy stage.
When Stars Go Dull: Carrie Underwood & Keith Urban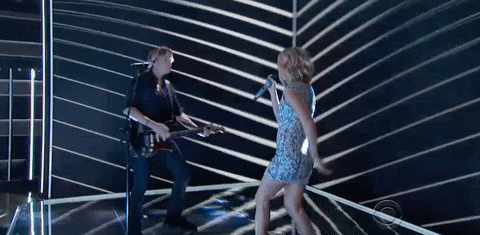 For two stars my attention for this new song burned out about as quickly as a dollar store lighter would. It's not that The Fighter is a horrible song, it's that it is an utterly boring song with no real merit to be something that needed to be debuted on the world stage. Country music is basically an American tradition, that is not one of the great musical exports of our country. The Fighter is basically a boring country version of the New Radicals' Someday We'll Know (but the duet version with Mandy Moore and Switchfoot's Jon Foreman).
Performance Rating: C.
TL;DR: This song and performance are both equally boring and it was fighting for my attention, but it lost.
---
Nick Jonas gets a Pilot Light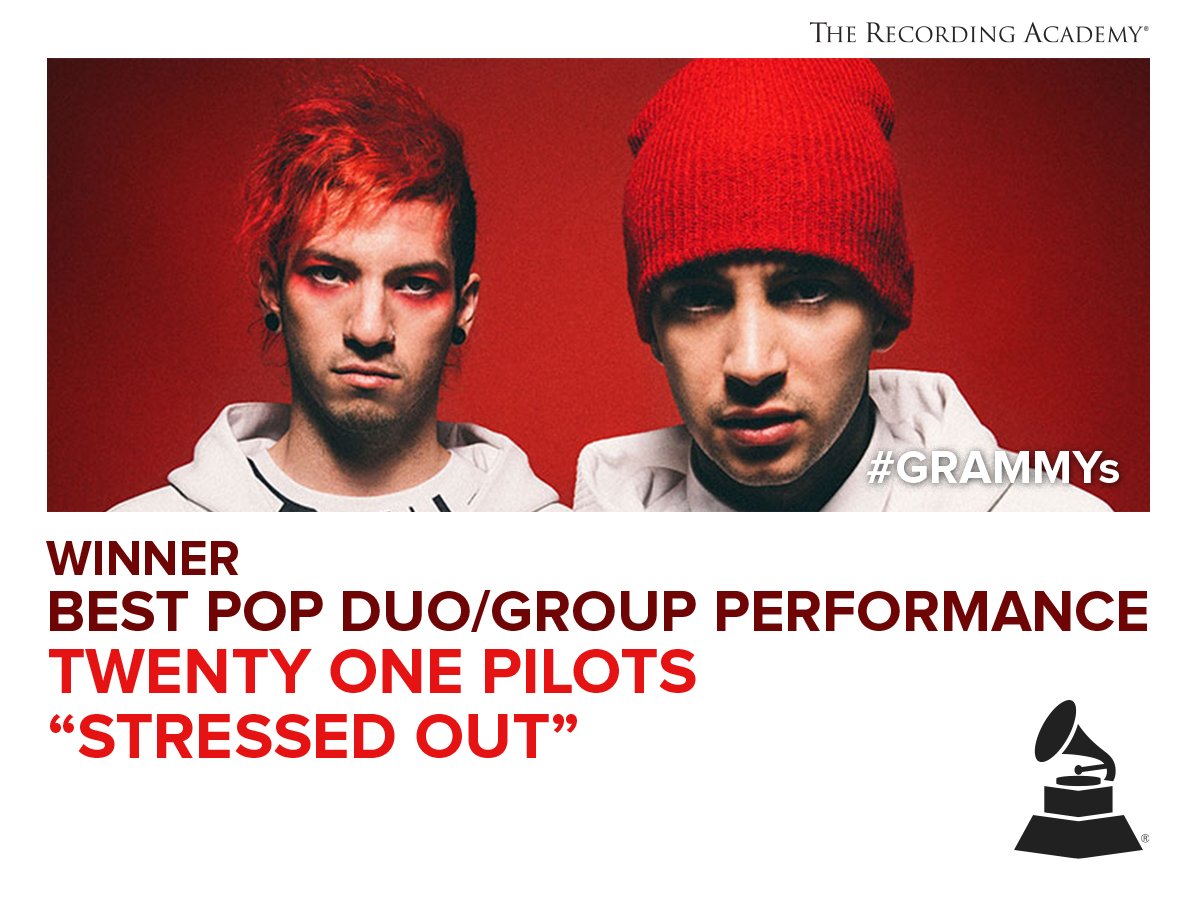 Finally breathing some life into what had thus far been a pretty sober night Nick Jonas announces 21 Pilots for Best Pop Duo/Group Performance which they respond to by ripping off their pants and accepting their first Grammy in their underwear because of some weird pact they made at some sort of Grammy watching underwear party.
TL;DR: 21 Pilots are edgy because they didn't notice that no one in their Grammy viewing party was wearing pants.
---
Ed Sheeran is a Risk Taker, While James Corden gets Risque
Following the lead of 21p, the ever topical James Corden announces the Ed Sheeran in his underwear. Ed stuck to doing what he knows with his custom designed Chewie 2 loop pedal and being a one man loop based band performing his new hit Shape of You. This heart attack gave me a heart attack simply because if he had messed up any part of this his live career could essentially be over in regards to TV performances.
Performance Rating: A+
TL;DR: Ed Sheeran is a loop pedal master and can kill a song he wrote for Rihanna live.
---
People should opt for contacts if they're not going to wear their glasses.
Announcing the winner for the Best Rock Song, a glasses blind Chainsmokers' member and the other one. The late David Bowie wins, and they accept and walk away.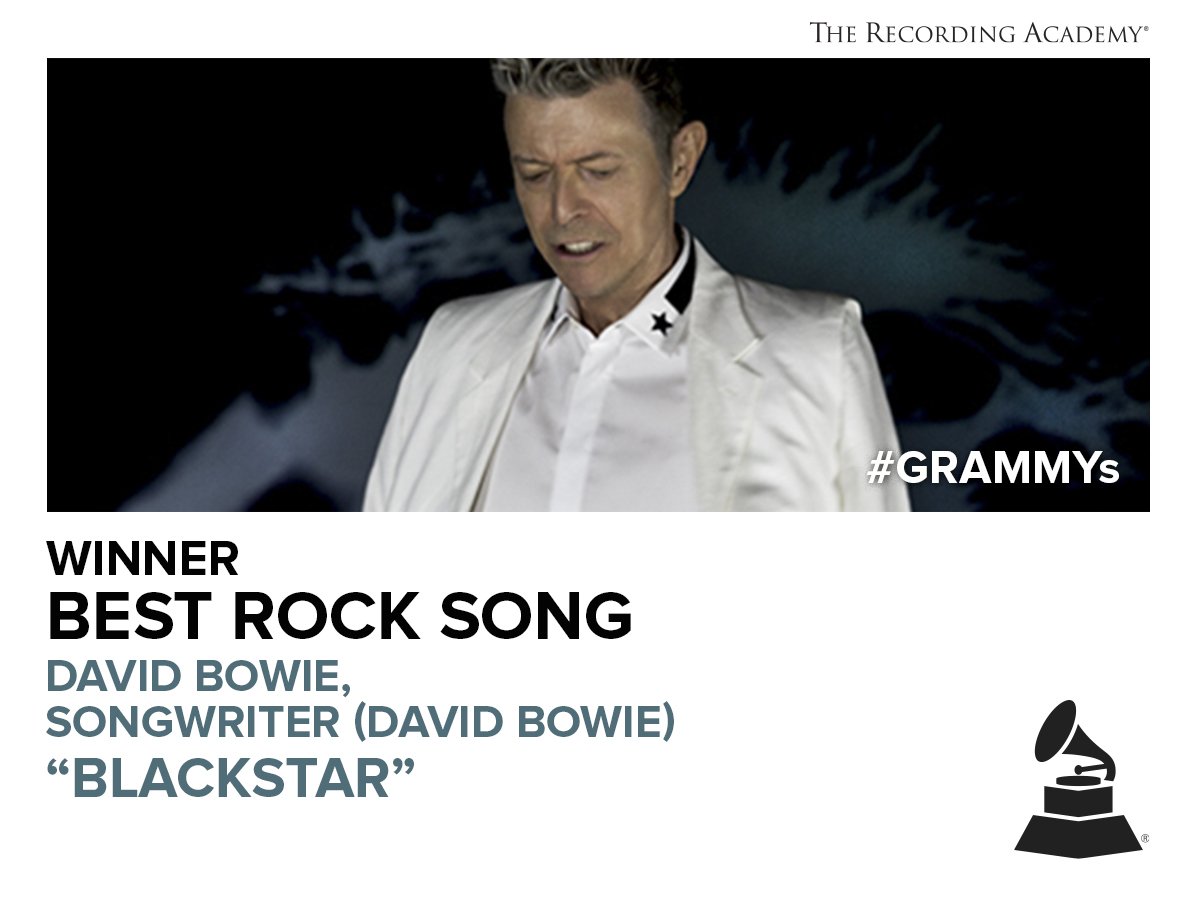 ---
This Night is Pretty Somber, and Lukas Graham Doesn't Help
Kelsea Ballerini and Lukas Graham duet/mashup the latter's hit song 7 Years with Peter Pan, which is kind of what the song felt like after hearing it for what seems like an eternity. The performances vocals were heavily complimentary but nothing was new here, and for a person who stayed sober throughout the entire show I was getting drastically sleepy.
Performance Rating B
TL;DR: If you want to sleep, this may be a good place to take a powernap, though I guess I could have told you that for Carrie & Keith too.
---
The Haus of Derion Returns with a Pregnant BaeBey / Beyonce Retools and Old Performance
A not so newly single Tina Knowles introduces her favorite child as a mother and inspiration, then Beyonce pulled out the holograms, like in 2011's Billboard Music Awards performance of Run the World (Girls), or in last years Tidal X performance of 6 Inch, but that was on Tidal, so clearly no one saw it.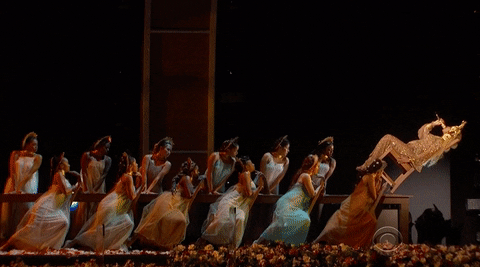 Tightening up the imagery and verging on the occult and/or blasphemous, Beyonce' takes a play out of Madonna's playbook and tries her hand at the iconic Mary, Mother of Jesus imagery, but in the most macabre/disturbing version possible. After what may be the longest cold open monologue since receiving her Video Vanguard moment from MTV 3 years ago, she finally starts singing Love Drought, and she sounds perfect. As the song continues her chair looks like it needs an exorcist of its own as it continually tilts back becoming the worst lazy boy of all time unless of course, she's planning on giving birth on this stage as a work of "art." More monologues happen, and then we end with Beyonce' sitting in another chair and performing Sandcastles.
Performance Rating A+
TL;DR: Beyonce' is Mary and Jay-Z is "HOV"…is there something very Oedipus Rex happening here!?
And then the show ended.
Just kidding, it really should have after that performance, but someone in programming is rude af tonight.
---
Maren Morris got her "Amen"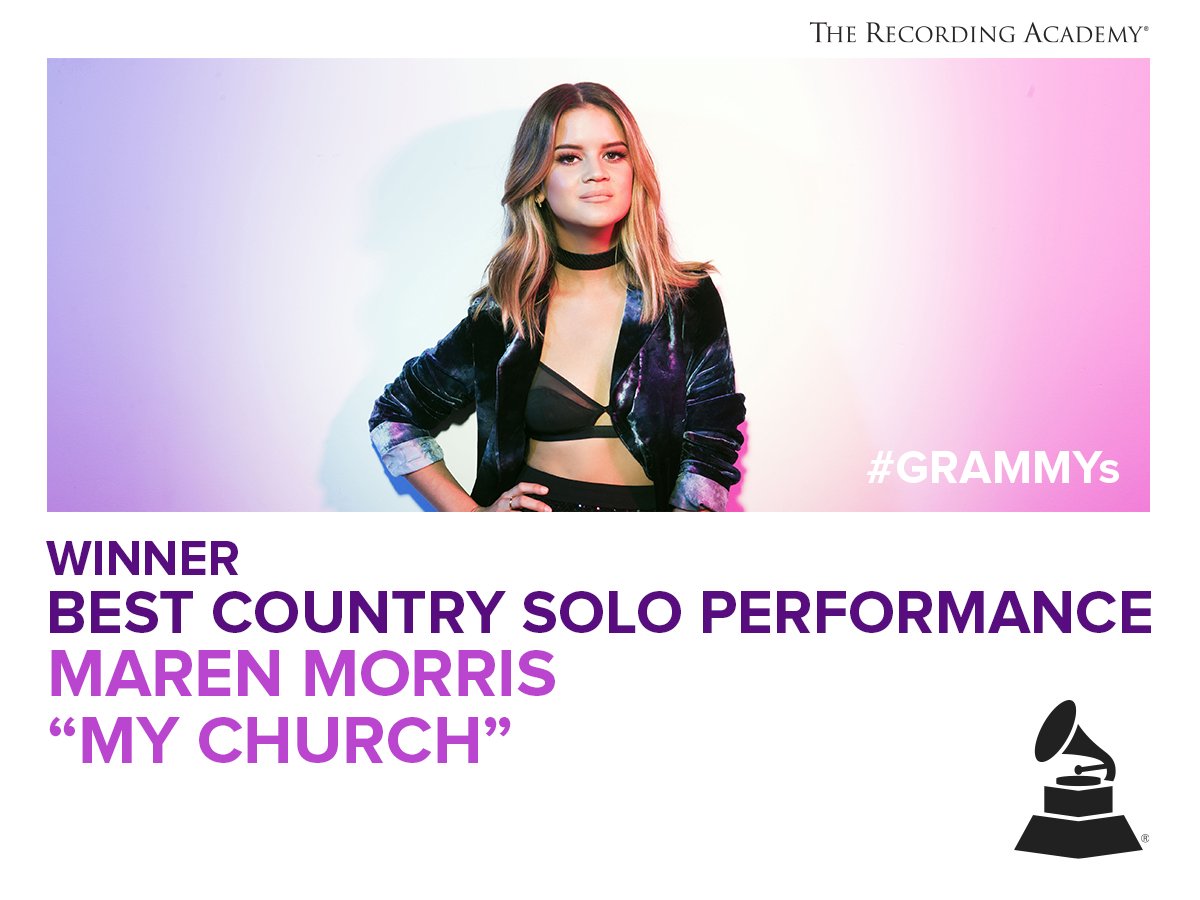 Winning best solo performance for My Church, a song I absolutely thought was called Can I Get an Amen and sung by any host of female country artists that are being Melodyne'd within an inch of their life, is newcomer Maren Morris, who is the first person not to get played off the Grammy stage.
---
Bruno Mars sings what will surely be this year's new wedding jam. Yay.
Now I have nothing against Bruno Mars, but he has become the champion of middle-America jams. I love what he does, he's given us gems like Fuck You for Cee Lo Green, Billionaire by Travie McCoy (God rest his career) and Rocketeer with Ryan Tedder and Far East Movement, but enough is enough.
The saving grace of this performance is that it is perfectly fine, not necessarily for the Grammys, but definitely for people at a concert, which is essentially what the Grammys are if you're in the audience. A standout moment is when the song loses its Motown sensibilities and heads in the baby-making direction of R.Kelly, with a very Usher Lovers and Friend spoken section that then climaxed into Blackstreet territory for a final harmony piece.
Performance Rating A-
TL;DR: Remember when Bruno Mars wasn't family friendly and was getting arrested for doing coke in Vegas? We want that Bruno Mars back because there's a story there. Bruno Mars isn't boring, he's just being boring for Bruno Mars.
---
Teenage Dream may be the best album Katy Perry ever releases, and we all know it, including Katy Perry.
Introducing their "Girl Crush" (what a great shameless pun/plug, I need to know who's Dad is writing the copy for the Grammys), Little Big Town start directly into an acoustic refrain of Perry's hit Teenage Dream before introducing the starlet premiering her new song Chained to the Rhythm, my personal jam right now. As I said, I'm loving Chained to the Rhythm but I wish someone had chained her vocals to the notes.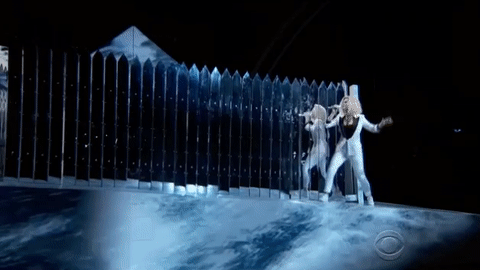 [Huge Spoilers Below]
In a performance that was no easy feat, Perry is basically running around, dancing, and whatnot on a moving platform, with a fence that keeps getting taller. This song is crazy high energy, which means she had to keep up with to find her light every few moments as the platform and house behind were continually changing. If people were distracted with all of what was going on, now part of the fence is open and out pops Skip Marley, grandson of Damian Marley and then all is revealed. The house was built out of pieces of fencing the dancers were holding and suddenly the Constitution of the United States is projected onto the house in a last ditch effort to make sense of what the song is about.
Personally, this was the performance I was waiting for all night, and I was initially disappointed, but I think the heavy handed use of just project the full constitution on this ever growing fence immensely powerful, regardless of if she ever hit the appropriate target notes.
Performance Rating B-
TL;DR: Katy Perry has something for you to read.
---
Just F*cking Perform
Gary Clark Jr and William Bell perform on the center platform before it is announced that Beyonce's Lemonade sold the voters as the Best Urban Contemporary Album.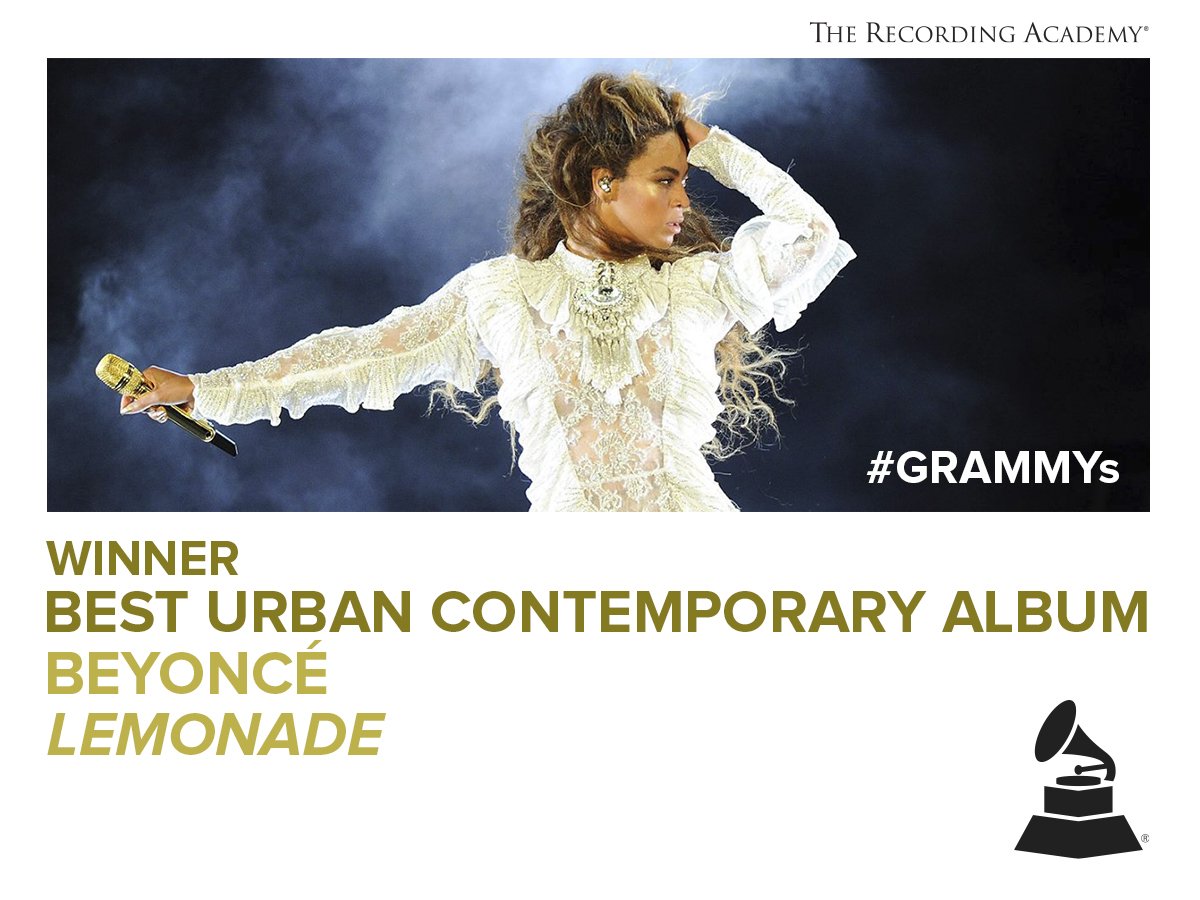 She pulls out a gold card which says a lot of things, but most importantly " My intention for the film and album was to create a body of work that would give a voice to our pain, our struggles, our darkness and our history. To confront issues that make us uncomfortable…I feel it's vital that we learn from the past and recognize our tendencies to repeat our mistakes."
TL;DR: Beyonce is not happy about the state of our country, but pregnancy might make her forgetful.
---
Not for Virgin Ears
Jane the Virgin's Gina Rodriguez was tasked with introducing a duet by Grammy mainstay Alicia Keys and earlier winner Maren Morris, a did aptly so with a simple reminder that "When women stand together, we can do amazing things." Though off to rocky start Maren finds her place vocally and kills the performance before an Alicia Keys physically channeling her best Diana Ross comes through swinging with a superbly flawless vocal of Once.
---
Let's take a break from politics with some Cardboard Karaoke
James Corden shows the world why he was selected to host the 59th annual Grammys, the gimmick that made him famous in the Americas (because we know it wasn't the critically acclaimed Begin Again starring Kiera Knightly, Mark Ruffalo, and Adam Levine), Carpool Karaoke!
Using a cardboard car cutout James rangles a set of unsuspecting superstars to sing Neil Diamonds Sweet Caroline, which half of the stars didn't seem to know. Awks.
After the bit was done, an ominous montage of many familiar faces played, showing things that had yet to air on the Late Late Show's show. Culminating in a final shot, Carpool Karaoke: The Series. This will either kill his schtick or middle-America has a new thing to watch with Lipsync Battle.
Only on Apple Music. Way to step into Netflix's territory.
---
Last Years Performance was Water Under the Bridge this one, Not So Much
There's nothing I can do to stop this from being spoiled for you, because if you're just now reading this and you didn't know I'm going to assume you've just woken up from a coma. Adele's task had she accepted it was to perform a tribute to the late George Michael; she shouldn't have accepted it.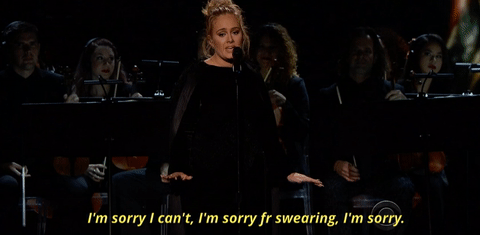 Adele in an extraordinary vocalist and talent, but to ask Adele to pay tribute to George Michael is basically the same thing as asking Sam Smith to pay tribute to George Michael, it's not in their wheelhouse and in the famous words of the Brittish based meme "she doesn't have the range," but that didn't stop her. What did stop her is the extremely low, slow and somber rendition of Michael's hit, Fast Car, played hauntingly with a droning piano straight out of a 90s psychological thriller and an extremely lush yet dissonant string section. She tried, and then she had the band and tech restart the song apologizing but saying that she had to do it right for Michael. Visibly shaken, she restarted the song, just as unsure as the first time around but quickly correcting to the vocal powerhouse she is.
It was beautiful, yet it completely defeated Adele, and you could tell for the rest of the night. That being said, this tribute was heads and shoulders above whatever Gaga did for Bowie last year. This was all about George being honored by Adele rather than Adele becoming George.
Performance Rating: On a weighted scale this gets a B if we're averaging this with the first go it gets a C.
TL;DR: This was the wrong person to sing the wrong arrangement that turned a previously upbeat song into a melodramatic ballad. Thanks Hans Zimmer for turning a George Michael song into the theme for Inception 2.
---
An Empire of Independence
Empire and Hidden Figures star Taraji P. Henson announces Chance the Rappers second win of the night for Best Rap Album, and he once again thanks God, and stresses that this award win is for "every independent artist." He also gives shouts to Soundcloud in a list of literal shoutouts.
---
Heavy Metallica Lover
For some reason, Orange is the New Black's Laverne Cox was tapped to Introduce Lady Gaga and Metallica, and in the process, she name-dropped Gavin Grimm, the cause of America's recent "bathroom bills." After telling the world to Google the Gavin she official introduced "Mother Monster" and her not so merry band of men.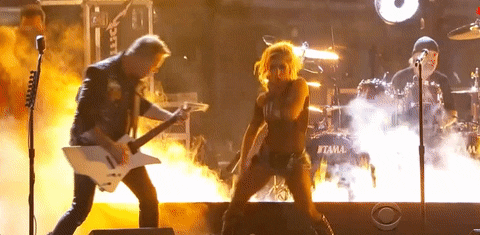 Sporting what could be described as a middle finger to anyone who called her fat because of photographed flab from her Superbowl debut a week ago, Gaga was here to rock, unfortunately, a technical error left an odd man out, James Hetfield, Metallica's lead singer.
After realizing what was going on, a clearly pissed James walked over to the Lady's mic shares it, all the whilst Gaga is running around the stage dressed like a manic groupie. They sound great together and the chemistry is fiery. Can this woman do no wrong? (The answer is yes, see: ArtPop, Perfect Illusion, etc)
Performance Rating: A+ (though, she was a little "extra")
TL;DR: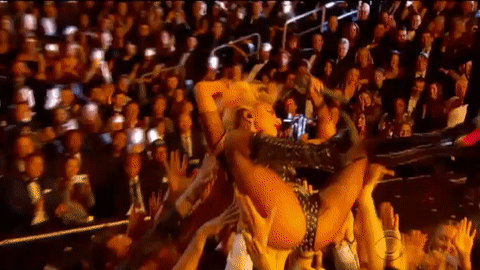 ---
Dap Kings & Sturgill Simpson Reign Supreme
Where Metallica and Gaga went for a spectacle, Sturgill Simpson went for the credibility delivering an extremely straight forward raw vocal. A pretty much perfect performance, that seemed like it would fit better on SNL rather than Sunday's 59th annual Grammys, but it was nonetheless flawless.
Performance Rating: A
TL;DR: One of the best performances of the night was also one of the most boring performances of the night.
---
The Little Tribute that Couldn't
One of the sleeper nominees of the night was Demi Lovato who got to headline the BeeGees tribute performance with Little Big Town, Tori Kelly and Andra Day. Do you see a problem there? All of the performers for an all-male group of disco era performers are women, women that don't make disco.
This tribute was… a bit too much with Andra Day really being the only standout, but Barry Gib seemed to like it.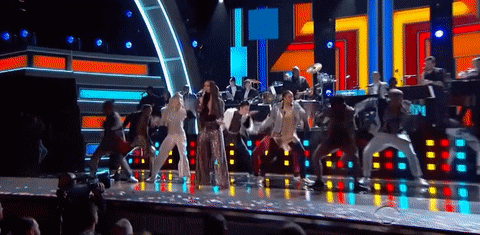 Performance Rating: C-
TL;DR: Justin Timberlake, Adam Levine, Sam Smith and Cee Lo Green apparently had prior engagements.
---
Song of the Year
We'll come back to this a bit later.
---
Get ready for a Tribe Called Quest and Anderson.Paak clean-up with "Agent Orange"
If there is a moment of the night I don't want to spoil, it's this one. Just know that Agent Orange is about to become a household phrase. This is the best performance of the night.
Performance Rating: A+ (Plus extra credit)
TL;DR: Watch the performance.
---
A Very Purple Tribute
The Time picking up the evening in the waning hours of the night and get everyone dancing and singing like them. They even have a giant mirror to make sure that they look fly af.
If this wasn't good enough, Bruno Mars joins them to turn up the volume and bring the party to the next level in a very very Prince-inspired get-up and guitar solo. TBH, The Time didn't need Bruno Mars, the Grammys did, the energy in the room was palpable as The Time went through catalog staples that weren't their A-list hits and the room was LIT. It looks like Bruno Mars has broken the curse of bad tributes.
Performance Rating: A+ (The Time), A (Bruno Mars) = A
TL;DR: Pros don't need help.
---
Chance takes us to church.
I wasn't planning on going to church on Sunday, but that meant little to Chance the Rapper who decided to hold a worship service at the Grammys with the use of contemporary Christian songwriter Chris Tomlin's biggest song How Great is Our God. Melding HGIOG with Chance's own hit No Problem with the help of Gospel superstar Kirk Franklin is unexpected but not out of character. This was a solid performance that just had a little bit to much of… everything, but at only 23 years old chance has a huge road ahead of him as the creative genius he seemingly is.
Performance Rating: B
TL;DR: Chance really does want to give God the glory.
---
Let's fast forward to the end
Adele wins song of the year, which is kind of shocking…I would expect Hello for Record of the Year, but I'm pretty sure that almost all of the other songs on the list had a longer staying power and impact than Hello, though it did rule the meme world for the first quarter of 2016, with Beyonce ruling the rest of it.
Adele's producer Greg Kurstin wins Producer of the Year, Nonclassical in the preshow, which generally means that Adele would win Record of the Year if the nomination is for the same song, which it is. Adele wins Record of the Year.
Adele is utterly shocked and begins crying.
Then for good measure, Adele wins Album of the Year. A clean sweep.
If you thought that was the end, you would be incorrect. Adele basically rejects the award, and instead claims this victory in the name of Beyonce.
That really happened and in the end when the cameras have stopped rolling Adele "accidently" broke her Grammy and in the most Cady Heron way gave Beyonce the other half of it.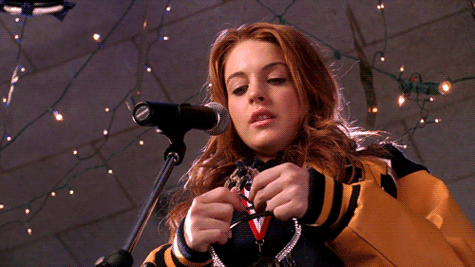 TL;DR: You can't just ask the Grammys why they won't give Beyonce Album of the Year.
---
TL;DR: The 59th Annual Grammys were just as much as a political shit show as anyone could have imagined.