If you're just starting out in the world of jazz guitar, your goal is to make sure that you've surveyed the market thoroughly before buying the best jazz guitar amps. Of course, choosing the best guitar amp is a challenge in itself, but don't worry, because we're to help you.
After researching and testing 10 different jazz amps, we've gathered that the best jazz amp is the Roland JC 120 Jazz Chorus for jazz guitar. The Roland JC 12 Jazz chorus is one of the best guitar amps available in the market. This amp is known for its clean sound and full-rage output.
The reason we've named the JC 120 Jazz Chorus as the #1 best jazz amp is that many jazz guitarists have praised the clear and sparkling sound quality, along with the amp's ability to help musicians shape their tone and make it better. This jazz amp is also known for its expressive palette and its 12" speakers that are each powered by a 60-watt amplifier.
Jazz guitarists all over the world use this amp constantly! In addition to the 60-watt amplifier and the 12" speakers, this jazz amp comes with two channels. Each channel contains a Bright switch and three-band EQ. If that's not enough to convince you, both channels include a built-in vibrato, an authentic spring reverb, and distortion.
If you want to add any external effects, you can do that too, thanks to the stereo effects loop on the back panel of the Jazz chorus. All you need to do is make sure that you're not creating any sudden or accidental loops when playing guitar.
When you're searching for a guitar amplifier, you're searching for something that will bring out the best in your music. If the Roland JC jazz amplifier is too expensive for you, you could have a look at the Fender Blues Junior IV Guitar Amplifier or the Fender Mustang GTX 50.
You've come to this article because you're searching for the best jazz guitar amps available in the market. If you're looking for amplifiers that will give you clean tones and great-sounding melodies, then you're in the right place!
We'll first give you a list of jazz amplifiers to choose from, and then we'll go through each jazz amp individually while breaking down the pros, cons, and features of all the jazz amps listed here. Keep reading for more information!
Here's a list of the best jazz guitar amps:
Table of Content
A Review of the 10 Best Jazz Guitar Amps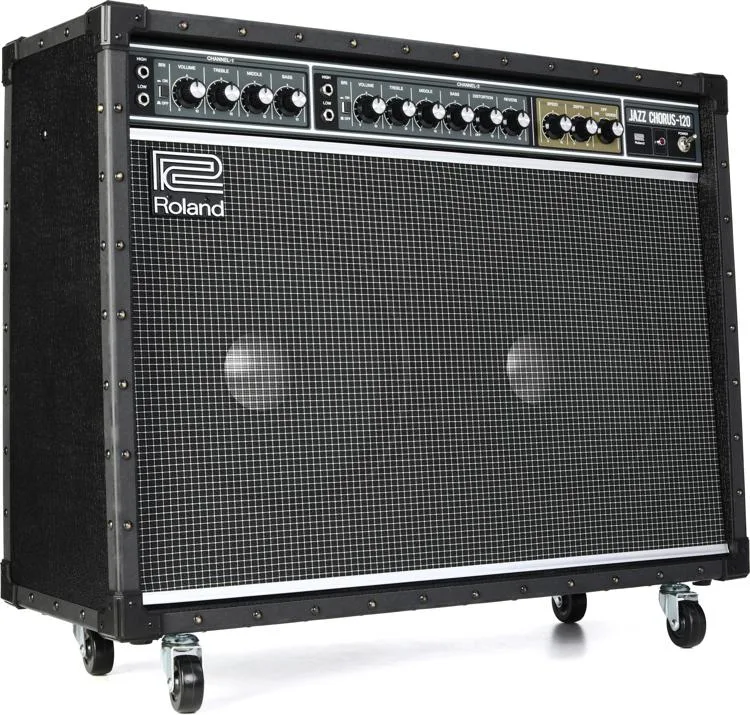 The first item on our list is a jazz amp that we'd highly recommend is the Roland JC 120 Jazz Chorus. There is truly nothing else like it on the market, what with its ability to produce clean tones.
This classic combo amp has received critical acclaim for the fact that it has one of the best sounding chorus effects worldwide! Let's take a look at some of the product's specifics.
This is a 2×60-watt amp with two 12" speakers and two input channels, both of which have a 3-band EQ, along with a stereo effect loop and a JC stereo chorus.
The Roland JC 120 costs $1,029 at present, and while this is a more high-end product, the results can't be denied. The built-in reverb and vibrato complete the list of features that this product offers.
However, suppose everything we've written so far wasn't enough to convince you. In that case, we'd also like you to know that the knobs on the front panel make it easy for you to alter how you sound whenever you feel the need to, thanks to the flexible and adjustable nature of this brilliant amp.
Advantages
Built specifically for jazz music
A robust solid-state amplifier
Disadvantages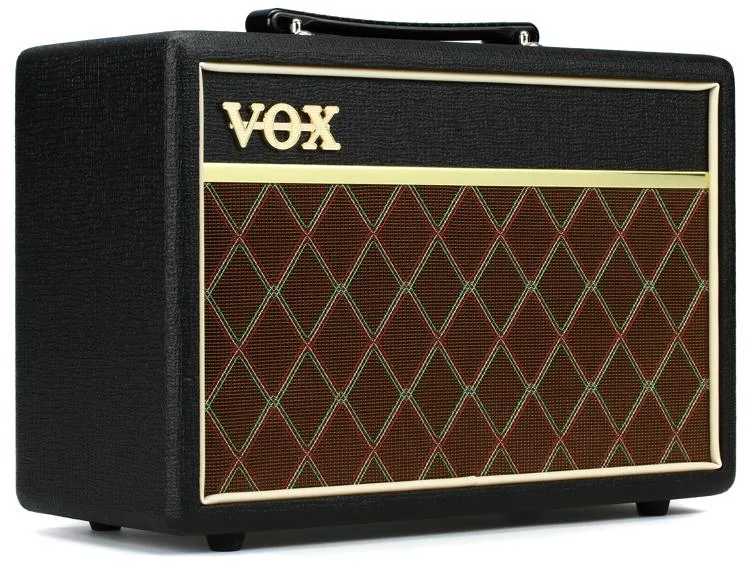 The vox pathfinder is one of the best guitar amps for jazz out there! We've listed this amp as number one on our list because it gives players the perfect jazz sound that all jazz players look for in an amplifier. We also listed it as number one because it is much cheaper than some of the other jazz amps included on our list.
If you've been searching for a good-quality practice or home guitar amplifier, then you've come to the right place.
This amp costs $89 and runs on 10 watts of power!
The Vox Pathfinder 10 amp is best known for its clean-sounding British tones and 6.5' speaker. The guitar amp comes with two channels, Clean and Overdrive, and a switch that allows you to shift between clean and dirty or chimney sounds! This switch is one of the best parts of this jazz amp because it helps you go from a pure jazz or blues sound to a more crunchy roaring rock sound.
This jazz guitar amp is small and compact because it is roughly the size of a launch box and a practice amp. It also comes with a headphone jack and an XLR input for your guitar. Additionally, there are two knobs, namely a Gain knob and a Volume knob. Finally, the Vox Pathfinder can manage your effect pedals.
Advantages:
Accessible to transport and store
Suitable for practice and beginners
Manages effect pedals well
Ideal for musicians with a budget
Disadvantages:
It cannot run on batteries
Drive channel quality can make music sound muddy
It does not come with an Aux input
Verdict:
We'd recommend this jazz amp to musicians on a budget searching for a quiet, easily movable, and soft guitar amp for practice.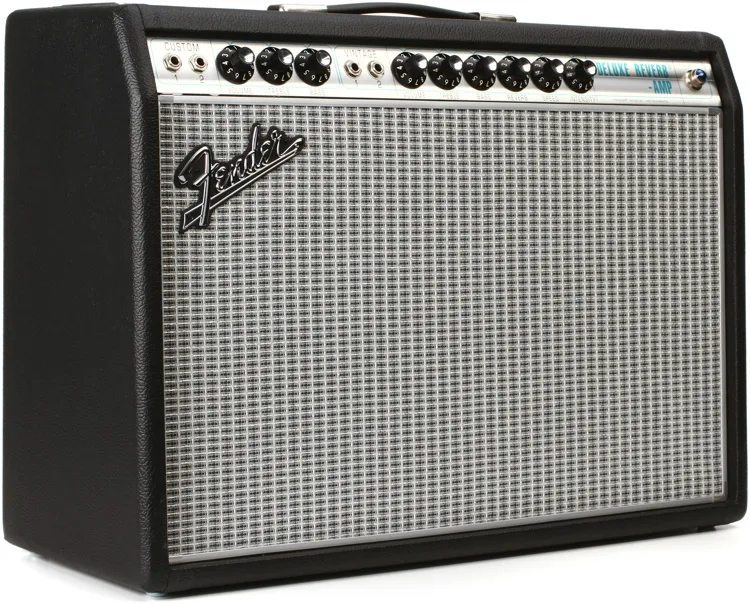 Next on our list is the Fender '68 Custom Deluxe Reverb! This jazz guitar amp is perfect for jazz players searching for a practical and versatile amp. It offers guitarists the chance to use the tremolo and reverb on both of the amp's channels.
Just like the Vox Pathfinder, this Fender amp also gives you the clean and pure-sounding jazz tones that every jazz artist craves.
Let's take a closer look at the specifics of this jazz amp.
Product Specifications
This amplifier is one of many Fender amps that customers love and use regularly. At present, it costs $1,249, and it is made with the classic design that Fender is known for.
When this 2-channel deluxe reverb amp was being designed, Fender designed it with two different voices. It contains both the vintage channel customers love the brand for and a new custom channel based on a Bassman tone stack. This jazz amp comes with a modified tone circuit that helps with the delivery of your tone when you decide to mix things up with effect pedals!
What makes this jazz amp even better is that you can use a tremolo circuit and an all-tube spring reverb on both the provided channels. Fender's amp is also a hot-rodded tribute amp with a single 12" Celestion G12V-70 speaker.
Advantages:
Good sounds that are perfect for gigs
Delivers classic Deluxe Reverb sounds
The lessened negative feedback increases the amp's touch sensitivity.
Disadvantages:
More expensive than some other jazz amps
Next up, we have the Rivera Jazz Suprema, an "An All-tube Combo Designed for Jazz Guitars" as described by sweetwater.com.
Product Specifications:
The best part about this jazz amp is Rivera designed it to be played with archtops. Jazz players often search for the perfect amp that gives off that excellent jazz sound when playing to a crowded room of people, but it can sometimes be hard to find. With this 50-watt amp, you won't have to worry about trying to deliver the warm, easy tones of jazz, especially since this amp is perfect for gigs with both small and large crowds.
Rivera built this jazz suprema with several controls to choose from. It comes with a classic spring reverb and a great selection of input/output controls for different sound configurations. After testing this amp out, we discovered that its design allows as much headroom as possible without having to compromise its smooth tone, especially if you're an arch-top player.
There is a 3-spring reverb that shows off a long decay, thus resulting in you showing off clean and sparkling tones. Additionally, it comes with a single 15″ Jensen C15N speaker. It's one of the more expensive items on our list, as it costs $1,899. However, the quality of sound that it produces cannot be skimmed over.
Advantages:
The amplifier is built for clean jazz tones
Built for maximum performance
Balanced effects loop
Disadvantages:
More expensive for someone on a budget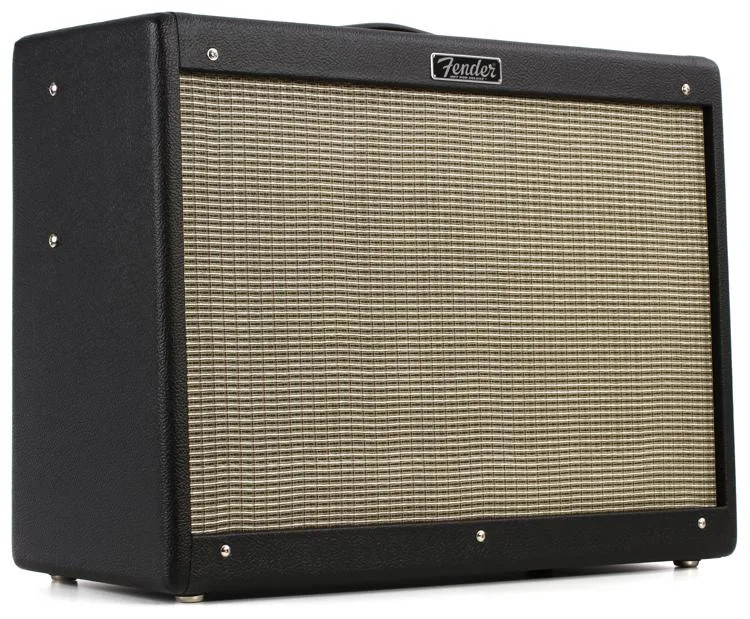 This next jazz amp by Fender is unbelievable. Back in the day, many musicians refused to consider themselves otherwise without a stereo rig and a foot controller. Unfortunately, they found themselves adjusting their tools twice as much as they actually played, not realizing that all they needed was a simple amp that did the job.
When this hot rod amp came into the picture, it changed the lives of many jazz artists searching for the perfect jazz tone. This Fender Hot Rod Deluxe IV provides artists with a clean tone, a direct connection to the music, a boost feature, and touch-sensitive responses.
Let's take a closer look at this amplifier.
It shouldn't come as a surprise to any of us that this amp is one of Fender's most popular models. After guitar players provided the brand with feedback, they came back with an updated preamp circuitry that gives jazz guitarists the smooth, clean sounds that former editions of the amp did not have.
The Hot Rod Deluxe IV comes with a 1 x 12″ Celestion A-type speaker, 3 x 12AX7 preamp tubes and 2 x 6L6 power tubes, and three channels; their settings are Normal, Drive, and More Drive. If that isn't enough to convince you, the redesigned preamp section helps you articulate better because of the better gain settings. Fender also updated the spring reverb and the amp's overall design. A black panel is now complete with ivory-colored knobs to help you see clearly on a darkened stage.
The amp also contains a 2-button footswitch, a pine cabinet that's easier to transport, and a dust cover. The best part of this amp is that it works exceptionally well with all kinds of guitar, not only jazz guitar.
Advantages:
Amp gives you finer volume control
Provides you with an excellent sonic foundation
Good for gigs
Disadvantages:
Does not have clean headroom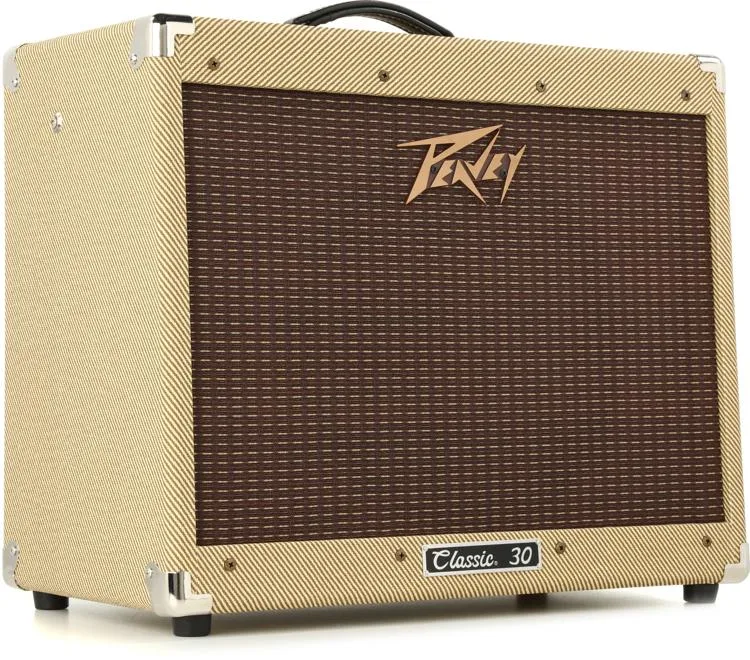 Peavey is well known for its solid-state amps. They've received critical acclaim for their high-gain amps in the recent past, but their Classic range is considered to have some of the best, most cost-effective amps in the industry.
The Peavey Classic 30 is a 30-watt 1×12 combination amp. It's lightweight and compact, but it's known for its clean and powerful sound, perfect for jazz artists. When looking for a jazz guitar amplifier, you want something that you can count on both when practicing and at gigs, and this amp does that for you.
Let's have a look at one of the more affordable jazz guitar amplifiers on our list, the Peavey Classic 30.
This guitar amplifier is part of a new range of Peavey amps. It is a 30-watt amp containing seven tubes, three of which are 12AX7s and four are EL84s, protected within a steel cage, and it costs $699. It's also one of the best solid-state amps on the market.
The amp also has two channels, a spring reverb that's driven by an op-amp and a footswitch to help you switch between channels. The op-amp is located at the bottom of the cabinet underneath a Celestion Midnight speaker.
Please note that the footswitch, which is for channel switching, cannot be used for the reverb because the reverb needs a second footswitch.
It's important to note that this amp is not for heavy metal and loud shredding. This is simply because this amp is designed for genres like jazz, the blues, classic rock, or bluegrass.
The Peavey Classic 30's strength lies in its clean tone. We would argue that this amp does some of its best work when it comes to the effect pedals.
Advantages:
Affordable
Easily transportable
Versatile in that it can cover a variety of genres
Built for jazz music
Disadvantages:
Not built for heavy metal
Shares an EQ with both channels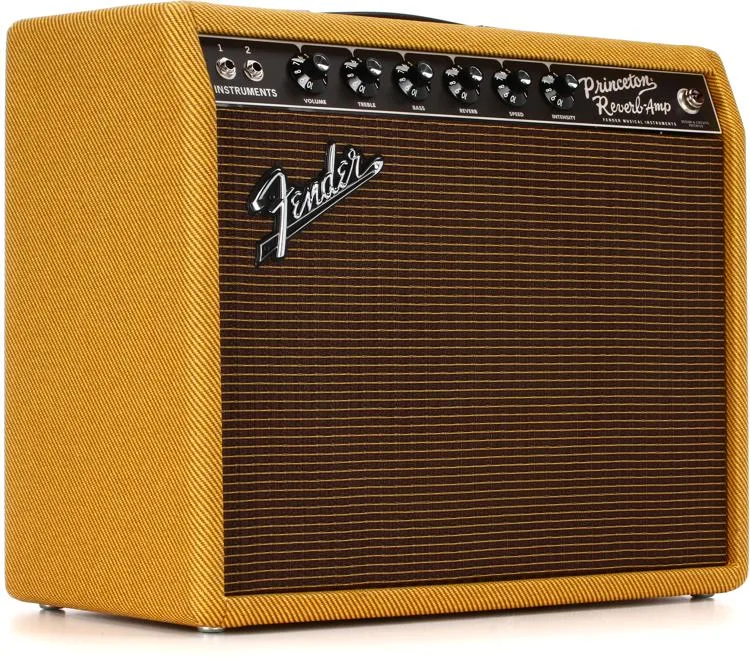 It's no secret that the classic Fender brand makes products that are popular among musicians everywhere, and the Fender '65 Princeton Reverb is no different.
This brilliant amplifier is small and great for jazz. While some might disagree with us, we'd argue that the reissue of this 1965 Fender has received critical acclaim over the past few years. It was initially designed to be an easily transportable amplifier for beginner-level guitar players and for musicians to practice with. Still, soon, it made its way to the studio and is now one of the most recorded with amps.
Let's take a closer look at the product specifications.
Even though this amp was designed for guitar practice and beginner guitarists, professionals and gig guitars quickly found themselves returning to this amp, thanks to its clean sound and tube-amp breakup. It's safe to say that this amp has been widespread and well-used among guitarists ever since the 60s.
The Princeton Reverb is a 15-watt combo amp, complete with a classic vintage-style tweed covering and Fender's well-known tube reverb and tremolo. It also has a 12" Eminence Cannabis Rex speaker that offers jazz players better projection, and it costs $1,099.
Advantages:
Lightweight
Clean sound
Ideal for recording and gigs
Disadvantages:
None! We'd highly recommend this Fender product.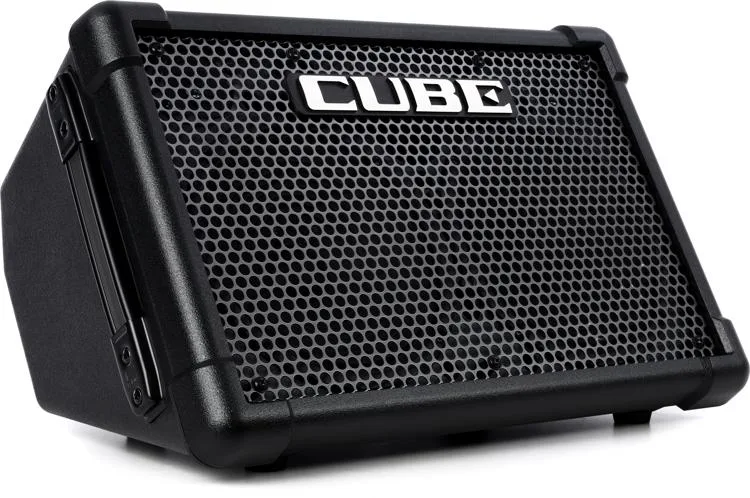 Next on our list is the Roland Cube. If you're interested in busking on the side of the street, or you're searching for a product that can connect various kinds of instruments to it, then you've come to the right place.
Product Specifications:
The Roland cube costs $514! It's the kind of amp that allows you to perform wherever you happen to be. It's powered by batteries and works exceptionally well for more than just jazz guitar. If you're an electric guitar player, a bassist, keyboardist, or drummer, then this Roland cube is definitely for you. Additionally, you can also plug in your tablet or smartphone to use it as a stage monitor, guitar amplifier, or even a PA system!
It comes with an i-CUBE link that allows you to connect it to your IOS devices. This cube is also portable, lightweight, and comes with two 8" speakers for solid and robust lows. It also has two 2" speakers for beautifully clear highs and can be used as both as a vocal amplifier as well!
You can use this amp for several hours at a stretch, thanks to the batteries that power it. You'll need eight AA batteries to use all 50-watts of it, but if that doesn't work for you, you can use the power-saving modes that allow you to run it 25 watts, or even 10 watts for very long gigs or busking sessions!
There is also a built-in tuner, COSM amplifier modeling, and a 3-band EQ on each channel. If you'd like to connect this Cube to another one, a stereo link output makes this process easier. Please note that you must purchase another Cube Street EX to connect the two together.
Advantages:
Serves multiple purposes – guitar, microphone, keyboards, drums, bass
Can connect a smartphone or tablet
Disadvantages:
Pricey because it is generally used for busking purposes only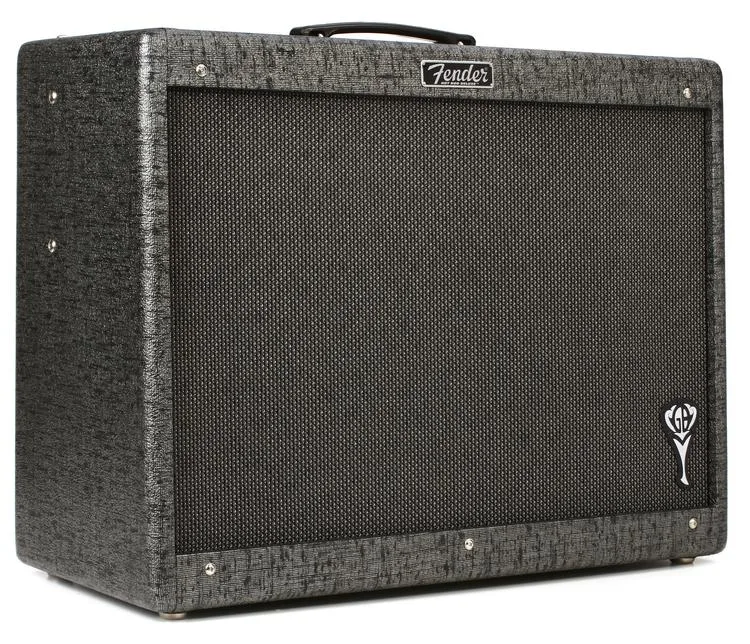 We've reached an exciting item on our list, the George Benson Hot Rod Deluxe! It probably goes without saying that this particular amp was designed and created in collaboration with George Benson.
This George Benson Hot Rod Deluxe is a 40-watt combo. It comes with a Jensen C12K 100-watt speaker, two 12AX7 tubes, and one 12AT7 tube as a portable amp. The best part about this model is that the speakers give you a stronger bass, louder volume, and projection than a regular Hot Rod Deluxe. We're recommending this for jazz players because of the beautiful tone it produces, the clarity of the sound, and how it makes your stage presence seem even more commanding than it already is.
Advantages:
It comes with a 2-button footswitch
Cost-effective
Combo amplifier
Disadvantages: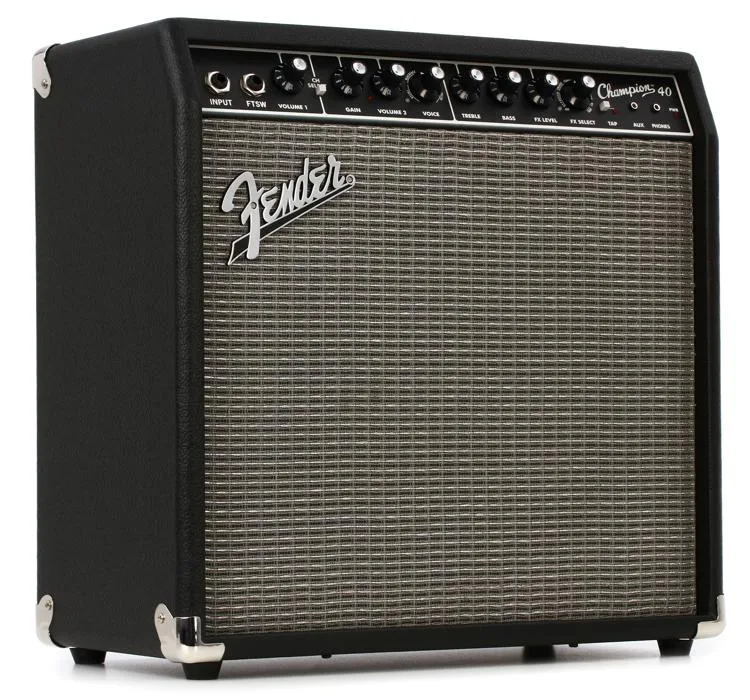 The final item on our list is the Fender Champion 40. There are many amp features that we'd love to talk about, so let's get right into it.
This amp is one of the more affordable options on our list. Guitarists all around the world love this amp because of the enormous tonal range that suits pretty much every style of music, so if you're a jazz artist, then this one is definitely for you.
The two channels, namely Blackface clean and selectable voice amp voicing, allow you to sound your best at both loud gigs and when rehearsing, and the built-in effects make sure that you sound polished and professional. Some of the built-in effects include delay, echo, chorus, reverb, vibrato, and tremolo.
There is also a 1 x 1/4″ instrument input, a 1 x 1/8″ stereo aux input, and a 1×1/8" stereo headphone jack.
Advantages:
Affordable
Easy to transport
Disadvantages:
It does not come with a footswitch
Buying Guide for Jazz Guitar Amplifiers
Here's a list of everything you need to look for when buying amps for jazz:
The size of the Amp
One of the most important things you need to consider when shopping for a guitar amp is the size of the amp. This might sound like an obvious thing to say, but it's important to remember. When you're traveling from one gig to another, the last thing you want to do is lug around a heavy amp with your other equipment and instruments and risk damaging something in the process.
When you buy your first amp, we'd recommend purchasing a smaller amp that's quiet and good for practicing. Smaller amps work well for beginners, they are easy to transport, and they work very well when you're on the road and need to travel light in terms of equipment.
What the amp's tone is like
The answer to this question lies in what kind of tone you're looking for. While some guitar amps can produce a bright and sparkling sound, others are better suited to produce darker and more complex tones. Additionally, some amps can make both kinds of sounds, so if that's what you're in the market for, then you need to keep an eye out for an amp that does both of those things equally well.
It's also important to keep in mind that the kind of amp you buy will reflect the type of music you want to play.
Every amp comes with 'equalization' built into it, with three settings: mid, bass, and treble. They help you achieve the sound you want most. So, when you're in the market for a jazz amp, remember to make sure that your EQ controls will help you get the possible sound out of your guitar.
Guitar amps also come with a gain knob that helps control how much distortion appears in the sound you produce. You must also remember to consider the reverb features. Reverb is what allows musicians to achieve the echo effect. Identify the differences between spring and a digital reverb, and figure out which sound you prefer.
Amp quality
As crucial as tone, reverb, and amp size are, one of the most essential features to consider when buying an amp for jazz guitar is the overall quality of the amp itself. Even if you're a beginner at playing guitar, you'll still be able to tell the difference between a good and bad quality amp.
However, we'd recommend buying an amp from a trusted brand like Fender, Roland, or Vox. The Blues Junior is one of many amp models that Fender offers, and it is an excellent starting point for great jazz.
The wattage of the amp and speakers
We're here to debunk any notions that the higher the amp's wattage, the louder the sound you get: this is simply not true. The loudness of your guitar does not automatically increase when you increase the number of watts when scouring the market for an amp.
You need to decide what level of sound you want instead. For instance, if you're on the road a lot and playing gigs at larger venues, you will want to purchase an amp that works well at a louder volume. On the other hand, you might be a jazz guitarist who is a student, and you need an amp to practice at home.
Please keep in mind that you don't always have to have an amp that is more than 20 watts because higher wattage doesn't necessarily mean that you play or sound better. Get a bigger and slightly higher wattage amp for stage performances, and get a smaller, 20-watt amp for at-home practice.
When it comes to the speakers, you need to keep the amp's wattage in mind. Many popular amps among jazz guitarists have either a single 12" speaker, two 12" speakers, or four 12" speakers. If you're playing a gig somewhere, a two-speaker or four-speaker model will do, especially since your amp is likely to be connected to a sound system. If you're practicing alone or in a smaller space, a 20-watt amp will work just as well.
Should I buy a combo amp or a head + cabinet?
Both kinds of amps have similar benefits, but the answer to this question truly lies in what your needs are. If you're traveling a lot of the time and need to transport many pieces of equipment daily, then a combination amp is what would work best for you. On the other hand, a separate amp and speaker sound much better, and they also look aesthetically pleasing when performing on a stage!
Should I buy tube amps, solid-state amps, or hybrid tubes?
If you're in the market for a plug-and-play amp, then a solid-state amp is what we'd recommend you choose, especially if you are a beginner player. We'd recommend the solid-state amp because they don't need as much maintenance as tube amps, and they tend to be a lot more reliable.
A hybrid guitar amp is a combination of the best parts of both tube and solid-state amps together! While older hybrid amps contain both tube power parts and solid-state preamps, more current and modern practice amps have separate tube preamp sections and solid-state power amp sections.
If you're interested in buying a hybrid guitar amp, try and purchase one with 12AX7 preamp tubes because this is a lot more cost-effective. The cheaper preamp tubes can mold the amp's sound, and efficient solid-state technology can power up the amp.
FAQs
What are the best VST plugins?
Some of the best VST plugins for jazz are, Garritan Jazz & Big Band 3, Trillian, Lounge Lizard and Keyscape. 
What VST plugins do professionals use?
There are many popular VST plugins. A few of the VST plugins that professionals use are the FabFilter Pro-Q 3, the Waves CLA-76, and the Waves Renaissance Reverb. 
Is Serum the best VST?
Yes, Serum is one of the best VSTs available. 
What makes Serum so good?
Thanks to musicgateway.com, we have an excellent answer to this question. In short, Serum's excellent design allows you to alias waveforms quickly, thus help you create a sound that is of the highest quality.
Conclusion
At the end of the day, every jazz guitar player has specific requirements that they feel will help them become better musicians, and an amplifier is one of many tools that can help them sound better.
We've gone through a list of 10 different amplifiers, and the one we'd highly recommend is the Fender '65 Princeton Reverb. If a jazz guitar amp isn't what you're looking for, we'd also recommend having a look at a list of the best mini guitar amps as well.